S&S Sports and NAPA Polson, Ronan, Missoula present the 31st annual Montana 200. Driver registration is now available.

Be Here For the Montana 200. July 15-16
.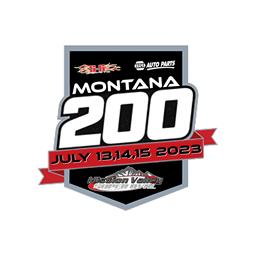 8/20/2022 - Mission Valley Super Oval
Polson, MT
$4000 2 WIN!!! Diamond S Trailer Repair Legend Madness
Legend Madness is $4000.00 to win this year.
Mod 4's

7 entries

Anderson Broadcasting Hornets

3 entries

DIAMOND S TRAILER REPAIR Legends

11 entries
Full Event Information on MyRacePass
Mod 4's
Finish
Start
#
Competitor
Hometown
+/-
1
6
6
James Bays Ronan, MT
Ronan, MT
5
2
5
77
David Doll Saint Ignatius, MT
Saint Ignatius, MT
3
3
2
78
Austin Dull columbia falls, MT
columbia falls, MT
-1
4
4
32
Paul Basler Polson, MT
Polson, MT
-
5
3
513
Ed Dimmitt Frenchtown, MT
Frenchtown, MT
-2
6
1
23
Bruce Baxter Missoula, MT
Missoula, MT
-5
7
7
9
Jonny Burland Polson, MT
Polson, MT
-
Finish
Start
#
Competitor
Hometown
+/-
1
3
513
Ed Dimmitt Frenchtown, MT
Frenchtown, MT
2
2
2
78
Austin Dull columbia falls, MT
columbia falls, MT
-
3
4
32
Paul Basler Polson, MT
Polson, MT
1
4
1
23
Bruce Baxter Missoula, MT
Missoula, MT
-3
Finish
Start
#
Competitor
Hometown
+/-
1
6
6
James Bays Ronan, MT
Ronan, MT
5
2
3
513
Ed Dimmitt Frenchtown, MT
Frenchtown, MT
1
3
5
77
David Doll Saint Ignatius, MT
Saint Ignatius, MT
2
4
4
32
Paul Basler Polson, MT
Polson, MT
-
5
2
78
Austin Dull columbia falls, MT
columbia falls, MT
-3
6
1
23
Bruce Baxter Missoula, MT
Missoula, MT
-5
7
7
9
Jonny Burland Polson, MT
Polson, MT
-
Finish
Start
#
Competitor
Hometown
Time
1
3
6
James Bays Ronan, MT
Ronan, MT
17.070
2
6
77
David Doll Saint Ignatius, MT
Saint Ignatius, MT
17.665
3
1
32
Paul Basler Polson, MT
Polson, MT
17.959
4
5
513
Ed Dimmitt Frenchtown, MT
Frenchtown, MT
17.964
5
7
78
Austin Dull columbia falls, MT
columbia falls, MT
18.281
6
2
23
Bruce Baxter Missoula, MT
Missoula, MT
18.355
7
4
9
Jonny Burland Polson, MT
Polson, MT
19.433
Anderson Broadcasting Hornets
DIAMOND S TRAILER REPAIR Legends
Finish
Start
#
Competitor
Hometown
+/-
1
5
12
Chase Eisenzimer Kalispell, MT
Kalispell, MT
4
2
4
64
Brock Denney Kalispell, MT
Kalispell, MT
2
3
3
92
Levie Jones Puyallup, WA
Puyallup, WA
-
4
2
63
Bryce Denney Kalispell, MT
Kalispell, MT
-2
5
1
98
Brendan Tracy Las Vegas, NV
Las Vegas, NV
-4
6
8
16
Allie-Mae Jones Puyallup, WA
Puyallup, WA
2
7
7
16M
Alex Mandere Spokane, WA
Spokane, WA
-
8
6
4
Dustin Mitchell St. Ignatius, MT
St. Ignatius, MT
-2
9
10
14
Tom Callies Whitefish, MT
Whitefish, MT
1
10
9
71
Leroy Thoring Kalispell, MT
Kalispell, MT
-1
11
11
41
Zach Havens Kalispell, MT
Kalispell, MT
-
Finish
Start
#
Competitor
Hometown
+/-
1
1
12
Chase Eisenzimer Kalispell, MT
Kalispell, MT
-
2
2
92
Levie Jones Puyallup, WA
Puyallup, WA
-
3
3
63
Bryce Denney Kalispell, MT
Kalispell, MT
-
4
4
16
Allie-Mae Jones Puyallup, WA
Puyallup, WA
-
5
5
14
Tom Callies Whitefish, MT
Whitefish, MT
-
6
6
71
Leroy Thoring Kalispell, MT
Kalispell, MT
-
Finish
Start
#
Competitor
Hometown
+/-
1
1
64
Brock Denney Kalispell, MT
Kalispell, MT
-
2
2
98
Brendan Tracy Las Vegas, NV
Las Vegas, NV
-
3
3
16M
Alex Mandere Spokane, WA
Spokane, WA
-
4
4
4
Dustin Mitchell St. Ignatius, MT
St. Ignatius, MT
-
5
5
41
Zach Havens Kalispell, MT
Kalispell, MT
-
Finish
Start
#
Competitor
Hometown
Time
1
11
12
Chase Eisenzimer Kalispell, MT
Kalispell, MT
16.190
2
2
64
Brock Denney Kalispell, MT
Kalispell, MT
16.366
3
6
92
Levie Jones Puyallup, WA
Puyallup, WA
16.394
4
10
98
Brendan Tracy Las Vegas, NV
Las Vegas, NV
16.723
5
3
63
Bryce Denney Kalispell, MT
Kalispell, MT
16.770
6
7
16M
Alex Mandere Spokane, WA
Spokane, WA
16.810
7
5
16
Allie-Mae Jones Puyallup, WA
Puyallup, WA
16.977
8
8
4
Dustin Mitchell St. Ignatius, MT
St. Ignatius, MT
17.399
9
1
14
Tom Callies Whitefish, MT
Whitefish, MT
18.016
10
4
41
Zach Havens Kalispell, MT
Kalispell, MT
18.297
11
9
71
Leroy Thoring Kalispell, MT
Kalispell, MT
18.353